THIS CHILD CAR SEAT HEAD SUPPORT MAKES TRAVELING WITH YOUR CHILDREN SAFER AND MORE COMFORTABLE!
Children bobbing their heads while sleeping in the car is a problem experienced by millions of parents, and it's actually very dangerous.
Our patented Car Seat Head Support prevents your child's head from falling forwards or sideways while napping in the car, giving you the peace of mind that your child is resting comfortably and safely in their seat.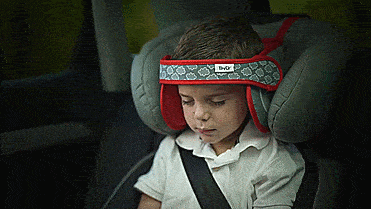 The product attaches to any car seat or high–back booster with adjustable straps. When the child is awake, the head strap is easily moved to the up position, above the child's head, without disturbing them. When the child falls asleep, the head strap is moved to the down position, parallel to the child's forehead, and the bobbing head problem is solved.
NO MORE having to listen about how uncomfortable they are, how they hate the pillow you brought for them, or how they want to go home and sleep in their own bed.
 HOW DOES IT WORK?
TWO PART SYSTEM – The product is made of two parts, the headrest that is attached to the car seat and a head strap which connects to it. When the child is awake, the head strap is moved up above the child's head without disturbing them. When the toddler falls asleep the head strap is lowered to the forehead, with a gap of up to 1″ between the forehead and strap.
 ✅ SAFETY – This's patented Velcro support system provides just enough support to hold your child's head in place but will give way in the event of an accident. The product is compliant with international safety regulations. Various crash tests for head, chest and neck safety, as well as for side impact were conducted, under the  US – FMVSS 213, NPRM 213, EU – ECER44 and were found to fully comply with the safety standards.
 ✅ PERFECT FIT – Easily attaches to all kinds of car seats and high back boosters. The special Velcro design allows the head strap to easily adjust to every head size – It will grow with your kids!